Exhibition hostess Duesseldorf, Event staffing agencyTrade show hostesses, exhibition models Duesseldorf
Germany Duesseldorf: attractive an experienced exhibition models, promotional models or booth hostesses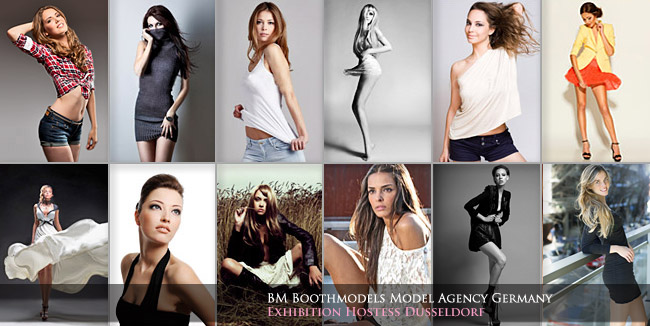 As a Hostess Agency, BM Boothmodels Model Agency is providing professional, experienced and attractive exhibition hostesses and promotional staff, promo girls for your next exhibition, promotion or event in Duesseldorf. So, if you have not find any Agency yet, BM Boothmodels Model Agency will be the right agency to find hostesses, promotional staff, booth models, grid girls in entire germany but especially in Duesseldorf. Compare to other model agencies or hostess agenies in Germany you can search online for models , promo girls, hostesses, grid girls and any staff you may look for Exhibition, Trade Shows and all other events in Duesseldorf. BM Boothmodels Model Agency has got nationwide database with more than 13.000 Exhibition Hostesses, Exhibition Models, promo girls, interpreters, Translators and staff for your upcoming Event or Trade Show in Duesseldorf. We will help to find attractive models or experienced hostesses. Depends what you are looking for. BM Boothmodels Model Agency knows what customer needs. Well, in most cases. We do this job already more than 3 years. Hostesses or Models from our agency will make your upcoming event, Fair, Trade Show in Duesseldorf even more succesful. So why don´t you fill up your Staff Inquiry right here and get prices as well as some profiles of Trade Show Staff in Duesseldorf. BM Boothmodels is a staffing specialized in providing exhibition and promotional staff and we will be your counterpart for any questions regarding hostesses, models or promotional staff in Duesseldorf you may have. The interesting alternative we offer is the better priced position compare to other hostess agencies in Duesseldorf. How we work is rather easy as graph shows below.
exhibition hostess in Duesseldorf Process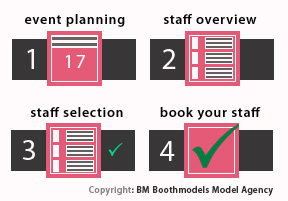 quote request exhibition hostess Duesseldorf
› You inform us about Event- or Trade Show Name with your Inquiry Details for hostesses or promotional staff in Duesseldorf und we forward it to the appropriate staff in our database. › After receiving your Inquiry we will send your e-mail with staff overview as well as our price overview. › Staff who has reply for your specific Inquiry is visible online for you. › you can book your favorite exhibition hostess, promo girls, promotional staff (depends what you are looking for).
Following services particular we offering:
- foreign languages hostess or translator may translate customer dialogue (if needed)
- promo girls distributing Flyer or give aways.
- around 13.000 promo girls, exhibition hostesses, promotional staff
- no extra costs for Traveling or accommodation
- book your promotional staff or exhibition hostess within few hours online
Exhibition Hostess, Booth Models, Booth Hostess Duesseldorf
Trade Show hostesses from BM Boothmodels Model Agency offers you complete service package. We do not employ exhibition hostesses or hosts, but we will providing you attractive booth models, exhibition hostesses and do charge fee on top for each model or hostess you need to book in Duesseldorf. You will pay less compare to other Promotional Agencies.
Interpreter, Translators or Hostesses with deep understanding in other languages
For your individual wishes, abroad we recommend our talented foreign language speaking exhibition hostesses or exhibition hosts from Duesseldorf. Foreign Speaking Hostesses take care of your foreign guests if needed as well. In our database are professional and non professional Interpreters depends on your budget. Most of them has got a showreel for better understanding in how good they are.
Event Staff
For your Premiere, gala, your companys celebration, a conference or congress here in Duesseldorf, you will find huge selection of trained event staff in our database as well. We take care of your individual wishes. Clients Satisfaction is rather important for Bm Boothmodels Model Agency. In anyway we put a big emphasis into it. Thats the reason why to inform our trade show hostesses and models related to the project and to make sure they have the best references in the field of exhibition and event services. We are looking forward for your Inquiry in Duesseldorf.