Booking Hotline: +49 221. 79 00 54 - 78 | email: getintouch [at] boothmodels.de
Promotional Agency Germany:
cute promotional models or promo girls for all events in Germany
BM Boothmodels Modeling Agency shows many profiles of promotional models online just right here.
Browse in many german cities for ▶ female and male models and find your suitable staff for your upcoming Event.
Promotional Staff in our agency has got their own profile. Each profile is shown in 4 Languages at least, where you can see Languages Skills, Height, Dress Size and Experiences in field of promotion.


Overview (profiles) of promotional staff:
Pictures below show you small selection of promotional models or staff for events in general from our database in germany.
For more details, please press "show profile".



As a promotional and hostesses agency we do supply good looking promotional girls across entire Germany. We offer a range of staffing services including promotional staff, exhibition models and hostesses, event staff and promo girls as well. All BM Boothmodels are highly experienced, many of them used to work for major events in Germany or in other european countries. For motor racing events like F1 Grand Prix, DTM (Deutsche Tourenwagen Meisterschaft) in Hockenheim Ring, Nürburgring and other sports events in Germany, Switzerland and Austria we do provide attractive Models with your individual wishes like minimum height, hair color, shoe size, Age. Some profiles from our database are even shown online. BM Boothmodels Model Agency is on your side to quickly find your individual wishes and needs. In general our clients for motor racing events do provide their own uniform with branding to grid girls. On of their purpose is to shield drivers with umbrella so that they protected from bad weather conditions. In anyway. You can be sure that whatever they do. Models from BM Boothmodels Model Agency do look fantastic. Grid girls are also known as umbrella girls, paddock girls, pit girls or F1 grid Girls. You can book all kind of models right here. Our lovely team has deep understanding and long experience in the field of events and promotions in germany. We have got nationwide database of promotion girls, exhibition models, female and male models. Our staff is carefully selected depends on events, your needs and individual wishes. BM Boothmodels Customer do expect a professional service and there is one thing that brings them together. Trust in competence of a very good promotional agency in germany. Each female and mal model has got own profiles with at least 3 pictures and it shown: Age, Height, Dress, Hair Color, Show Size, Languages Skills, most recent promotions & Expierences and available to work cities. Following service BM Boothmodels Model Agency does provide: › female and male models with own profiles › online search function to find reliable staff for Events in germany › promotional ladys: German (Mother Langauges), English (Fluently) and other foreign languages - if needed › promotional staff with excellent communication skills › several thousand female models or male models in our database › book your promotional staff or exhibition hostess within few hours online
Promotional Staff Germany: Service particular
Promo Girls for all events in germany, Promotional Models for Trade Shows, Grid models for motor racing events, hostesses for gala, conferences or congresses as well as your company celebration.
Event Staff
For your Premiere, gala, your companys celebration, a conference or congress here germany, you will find huge selection of trained event staff in our database as well. We take care of your individual wishes. Clients Satisfaction is rather important for Bm Boothmodels Model Agency. In anyway we put a big emphasis into it. Thats the reason why to inform our trade show hostesses and models related to the project and to make sure they have the best references in the field of promotion and event services. We are looking forward for your Quote Request.
book promotional staff in germany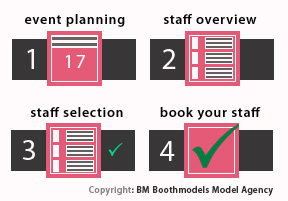 quote request promotional staff germany
› You inform us about Event- or Trade Show Name with your Inquiry Details for models or promotional staff in Germany und we forward it to the appropriate staff in our database. › After receiving your Inquiry we will send your e-mail with staff overview as well as our price overview. › Staff who has reply for your specific Inquiry is visible online for you. › you can book your favorite exhibition hostess, promo girls, promotional staff (depends what you are looking for).