Booking Hotline: +49 221. 79 00 54 - 78 | email: getintouch [at] boothmodels.de
Exhibition Hostess Agency Germany: female and male models for Events and Trade Shows
Trade fair hostes, exhibition hostesses, trade show staff, exhibition models in all major cities in Germany
BM Boothmodels Modeling Agency provides exhibition staff or stand hostesses to work at events and all exhibition venues in Germany. We work with clients and individual companies across the Car, Technology, Tourism and Business sectors to provide reliable professional and attractive staff.
Profiles of Exhibition Hostesses in Germany
BM Boothmodels Modelling Agency in Germany is the specialist in the delivery of reliable and confident exhibition hostesses and events staff for any type of corporate, private or promotional function. We are offering exhibition hostesses, Trade Show Models , promo girls in entire germany like Berlin, Frankfurt, Munich, Stuttgart and all other cities in Germany Exhibition Hostesses from BM Boothmodels Modelling Agency are highly experienced and used to work for many other events in Germany. Our exhibition staff and support staff can also work as brand ambassadors for your company, representing and promoting your brand, products and/or services. If you are considering an exhibition hostess or even a team of hostesses, for your upcoming Trade Show or Event in germany, you should know that our hostesses are highly qualified, expertly trained in customer service and if required sales and promotions as well. In many cases depending on your requirements we are able to provide you with bilingual hostesses as well. A lot of profiles of male and female profiles are shown online. We have got exhibition hostesses in Germany who are able to speak most European languages like russian, polish, italian, spanisch, french and other international languages. If you work with BM BOOTHMODELS MODEL AGENCY we will brief your hostess or hostesses before they arrive at your event or Fair to make sure that they turn up at the right place at the right time with understanding of your event company and the objectives of the function. Exhibition Hostesses will also be trained to communicate your key messages effectively, helping you to get results, social presence and promotional content. To book models or hostesses in our agency is rather easy. Please see below our booking process for Exhibition hostess in germany
exhibition hostess, Trade Show Models. Booking Process.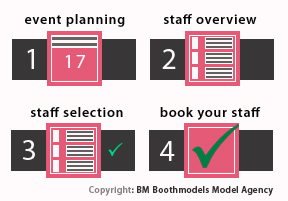 quote request exhibition staff germany
› You inform us about Event- or Trade Show Name with your Inquiry Details like languages skills, duties of models or hostesses you are looking for in germany and we forward it to the appropriate staff in our database. › After receiving your Inquiry we will send your e-mail with model or hostess overview as well as our price overview. › Exhibition staff who has reply for your specific Inquiry is visible online for you. › you can book your favorite exhibition hostess, promo girls, promotional staff (depends what you are looking for). That is it!
Each female and male model has got own profiles with at least 3 pictures and its shown: Age, Height, Dress, Hair Color, Show Size, Languages Skills, most recent promotions & Expierences and available to work cities. Following service BM Boothmodels Modelling Agency does provide: * female and male models with own profiles * online search function to find reliable staff for Events in germany * promotional ladys: German (Mother Langauges), English (Fluently) and other foreign languages - if needed * promotional staff with excellent communication skills * several thousands of female and male models in our database * no extra costs for Traveling or accommodation * book your promotional staff or exhibition hostess within few hours online

Trade Show Booth Staffing | Booth Models Hostesses

Exhibition Hostess Online search function to find male or female hostesses according to your personal needs. All hostesses are prepared to servce clients in industries like automotive, technology, pharmacy and all other industries. As hostess agency we offer you complete service package and make sure your upcoming event or Trade Show will be succesful with Models or Hostesses from BM BOOTHMODELS MODEL AGENCY. Model Hostess Exhibition Hostesses are trained and highly experienced. Model Hostesses in our agency has got minimum height of 5'9 (UK Size) and Dress between 8 and 10. You can search for Model Hostess Category online to find quick your favorite male or female model in Germany. If you decide to book models or hostesses from BM BOOTHMODELs MODEL AGENCY we make sure that they are highly experienced in field of exhibition and event service. Clients Satisfaction is rather important to our agency. Thats why we would like to train our trade Show hostesses and models as good as possible related to your project. The event package includes the following services of trade Show hostesses or hosts: - highly experienced and good references in field of Promotions and Trade Show Expierences - foreign speaking language hostess if needed (most European languages like russian, polish, italian, spanisch, french and other international languages) - attractive appearance by booking model hostess category - reliable and motivated We are looking forward for your Quote Request.