Booking Hotline for Event Staff: +49 (0) 221. 79 00 54 78 | e-mail: getintouch [at] boothmodels.de
Trade Fairs Germany 2017
Book Trade Fair Hostesses with our Trade Fair Calendar 2017
At BM Boothmodels Modeling Agency we have several thousands of meticulously screened and registered staff on our books in entire Germany consisting of experienced promotional models, commercial models as well as elegant event hostesses. We also have staff registered with us in Austria, Switzerland and Italy. We understand that each campaign or event theme is different and so please make use of the below model search facility to find a promotional model in Berlin, Frankfurt, Munich, Nuremberg, Stuttgart or Cologne that meets the requirements of your next function. Find Exhibition Models
book Trade Fair Hostesses, promotional staff or models
for almost each Trade Show in Germany 2017.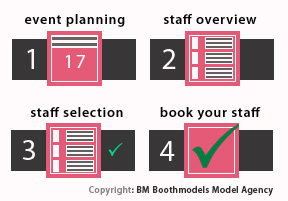 QUOTE REQUEST EXHIBITION HOSTESS OR PROMOTIONAL STAFF IN GERMANY
› You inform us about Event- or Trade Show Name with your Inquiry Details for hostesses or promotional staff in Germany and we forward it to the appropriate staff in our database. › When receiving your Inquiry we will send your an email with staff overview as well as our price overview. › Staff who has reply for your specific Inquiry is visible online for you. › you can book your favorite exhibition hostess, promo girls, promotional staff (depends what you are looking for).